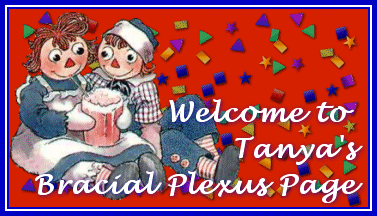 Thanks for visiting.. I hope I can
somehow help you in finding info on BPI.
Have a look around and then let me know
what you think by signing the guestbook or the message board.





My daughter was born June 29th 1995
She received an injury at birth called
Brachial Plexus Palsy (BPP)
This page was started to help others dealing
with this injury to not feel so alone.
Tanya



Each soul is a master...
in each moment called now.
We each create our lives and our world around us.
Judge not the karmic path walked by another.
Each circumstance is a gift.
In each experience is hidden a treasure.



I have started a mailing list, support, getting to know each other group so if you would be interested in joining please fill out your email address below or email me at illusions_of_lite@hotmail.com Be prepared though.. we can be quite the talkative group.. so you will get alot of email.









 This site best viewed with a screen size of 800 x 600 pixels
Design and Graphics by Designs of Destiny © 2001.  All rights reserved
None of these graphics may be duplicated or linked to.